Top Hampton Roads Tourist Attractions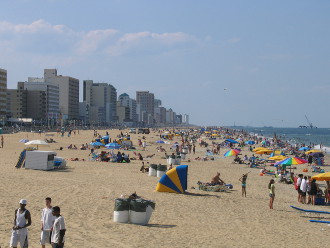 Virginia Beach
Hampton Roads and Virginia Beach have enough attractions to keep just about any visitor (or resident) busy for days.
Although the main draw is the oceanfront, the tourist district has plenty to do, and other major attractions are close enough by car that they take little time to reach.
Virginia Beach Oceanfront
The Virginia Beach oceanfront is long, popular and covered with golden sand. It has multiple access points and plenty of lifeguards. Anyone who doesn't stay at one of the many hotels that line the beach will have to find street parking, which is difficult during the weekend and much easier during the week.
The Boardwalk runs parallel to the beach and in front of the hotel strip. A convenient cycling and rollerblading lane runs next to it. Many of the hotels that line the beach also have restaurants that face the beach and cater to beach crowds. Some of them are open air. The Boardwalk is popular with strollers because of the restaurants, easy access to shops and other things to see.
One interesting thing for strollers to see is Neptune Park on 31st Street. Guarding the park and its biggest attraction is the 34-foot-tall Neptune Statue that was built with donations from the annual Neptune Festival. The park is the site of numerous concerts throughout the year.
Colonial Williamsburg
Anyone willing to drive a bit should consider visiting Colonial Williamsburg, the world's largest living history museum covering 300 acres with museums, historical buildings, events and demonstrations of America's 18-century past.
Busch Gardens
Also in Williamsburg is Busch Gardens, the second largest theme park in Virginia, but it is first in beauty. And yes, it does have gardens. It also has plenty of rides and entertainment.
Virginia Aquarium and Marine Science Center
The aquarium is one mile from the resort area at 717 General Booth Blvd. Energetic visitors who are staying in the resort area can walk to the aquarium or bike there (if they have rented one from a Boardwalk vendor). The aquarium is an extensive facility with numerous animals, exhibits, and "premium experiences" as well as an Imax theater.
Ocean Breeze Waterpark
Walk, ride or drive just a little farther along General Booth Boulevard to 717 and see the Ocean Breeze Waterpark. Take a right onto Ocean Breeze Parkway to reach it. The park features 16 waterslides, a 1 million-gallon Runaway Bay wave pool and the Buccaneer Bay Water Playground.
Motor World and Shipwreck Golf
Still looking for something to do? Continue along Ocean Breeze Parkway and look for Motor World and Shipwreck Golf, 700 S Birdneck Road. Motor World features 11 go-kart tracks and 250 karts with 16 different style go-karts. Shipwreck Golf, owned by Motor World, is a 36-hole adventure putt-putt course.
The Virginia Zoo
The zoo at 3500 Granby St. is one of two accredited zoos in Virginia. It covers 53 acres and has more than 500 animals.
First Landing State Park
The 2,888 acre First Landing State Park off Route 60 near Fort Story is Virginia's most visited park. It has boating, swimming, nature and history programs, hiking, biking, picnicking, a boat launch, cabins and 20 miles of trails. It also has campsites with water and electric hook-ups and nearby access to restrooms and showers
Historic Jamestowne
No visit to the Hampton Roads area is complete without a visit to the birthplace of what we know as English-speaking America. A visit to the town enables visitors to walk in the footsteps of Captain John Smith, Pocahontas and those who settled in England's first permanent colony in North America in 1607. John Rolfe and Pocahontas were married in this town in 1614, and America's first representative assembly met here in 1619.
Virginia Air & Space Center
The center, 600 Settlers Landing Road, Hampton, is the official visitor center for NASA Langley Research Center. It's also a museum that allows visitors to let their imagination soar. Whether they are launching a rocket or serving as pilot of a space shuttle, they can imagine what is like to work with a space program. The display includes the Apollo 12 Command Capsule that made a moon landing plus a moon rock and a Mars meteorite.
American Revolution Museum
This living history museum, 200 Water Street, Yorktown, reflects the significance of the American Revolution and gives intricate details of America's struggle for independence. Exhibits chronicle significant aspects of the nation's history, including the Battle of Yorktown in 1781, and the Declaration of Independence Gallery that has a display featuring a rare early broadside printing of the Declaration of Independence that dates to July 1776.
Colonial National Historical Park
This park includes some of the most significant sites in the history of English North America. The park includes the first permanent English settlement in North America, Jamestown, and Green Spring, the 17th century plantation home of Virginia's colonial governor, Sir William Berkeley.
It also includes Cape Henry Memorial, which is approximate landing site of the first landing of the Jamestown colonists in April 1607. The park also includes Yorktown Battlefield, the site of the final major of the Civil War. The sites are connected by some 23 miles of scenic travel on Colonial Parkway.
James River Plantations
Civil War history buffs may enjoy this self-guided tour of gardens and grounds of four historic landmark plantations along the Virginia Route 5 Scenic Byway from Williamsburg to Richmond. One ticket, known as the Civil War Trace Ticket, includes admission to the grounds of Westover-1730, Piney Grove-1790, North Bend-1819 and Edgewood-1847.
There are also five historic markers along the route, including those that mark the spots of Fort Pocahontas, Grant's Crossing of the James River, and Charles City Courthouse. For an extra fee, guests can arrange tours of the plantation homes.
Cape Henry Lighthouse
Being a coastal area, Hampton Roads is home to the Cape Henry Lighthouses. The Old Cape Henry Lighthouse was constructed back in 1792. After it began cracking in 1870, it was replaced with a new lighthouse that is only 357 feet away. A road will enable guests to travel between the two lighthouses.
Portsmouth Naval Shipyard Museum
Since 1949, this museum has detailed naval history and displayed memorabilia from a centuries old port located in the South. Originally located in the oldest shipyard in the nation, it is now on the Portsmouth waterfront on the Elizabeth River.
Mount Trashmore Park
This park stands out from the rest, making a difference in the environment. A world-renowned park, it consists of 165 acres with a focal point that stands more than 60 feet tall and 800 feet long. It was created by compacting layers of solid waste with clean soil. One popular area of the park is the Water Wise garden. The area includes picnic shelters, playgrounds, vending machines, restroom facilities, volleyball courts and a skateboarding park.
Old Coast Guard Station
Built in 1903, then decommissioned in 1969, this is a former U.S. Life Saving and Coast Guard Station on the Virginia Beach oceanfront. With two separate galleries that depict the history of the life-saving services of the Coast Guard, shipwrecks that have occurred off the Virginia Coast, and other exhibits, it details significant events in coastal history. It's a small attraction and a quick visit.