Norfolk Botanical Garden Visitor Guide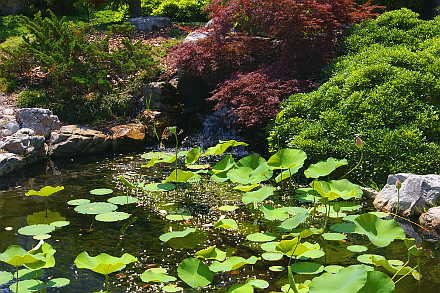 Japanese garden at Norfolk Botanical Garden. Source: Wikimedia (Creative Commons license)
Norfolk Botanical Garden in Hampton Roads is the place to visit for anyone who enjoys gardens, wildlife or just spending time outdoors.
It began in 1939 when the Work Progress Administration gave the city a grant for just over $76,000 to create a garden that would attract visitors.
From those beginnings, the Garden has grown into a 175-acre attraction that boasts 60 themed gardens, boat canals, an indoor space for special
events
and a long list of educational programs.
"Some of our gardens showcase styles from different parts of the world, while others are focused on one particular type of plant. We have gardens of intense fragrance and color, and we have some for reflective contemplation," the garden says on its website.
"There are several that offer manicured formality, but we also have many places where nature rules, and these are some of the best to see local birds and other wildlife."
The garden provides a setting for an afternoon stroll, and most of the pathways are suitable for visitors in wheelchairs.
Garden themes also cover times of the year including winter, spring, summer and fall as well as year round.
Examples of the themed gardens are the Bristow Butterfly Garden, the Virginia Native Plant Garden and the Bicentennial Rose Garden.
The WOW Children's Garden offers both fun and education. During the summer, it has world-themed splash gardens. Discovery Peak gives children a chance to see, smell and touch edible plants. They can take a nature walk through the Plant Safari habitat gardens. Activities include crafts, walking tours, scavenger hunts and guided and self-guided discovery stations.
Other programs offered by the garden are family evenings at the park, bird watching, floral arrangement, a winter lights tour and many more.
Visitor Tips
A full visit to the garden involves quite a bit of walking for anyone who wants to see most or all of it. The garden has seven miles of paved trails and another seven miles of unpaved trails.
Visitors can tour the garden on boats via a series of canals. The tour lasts 45 minutes. Tickets are $8 per person.
What's Nearby
The garden is a little more than six miles northwest of Virginia Zoo and the Chrysler Museum of Art. First Landing State Park is 10 miles west, and the Virginia Beach boardwalk is 17 miles west.
Hours and Location
Hours: Oct. 16 through March 9-5, April through Oct. 15 9-7
Location: Norfolk
Address: 6700 Azalea Garden Road, 23518
Telephone: 757-441-5830
Web site: www.norfolkbotanicalgarden.org
Cost: $12 adults, $10 children, 2 and under free
Latitude: 36.901564
Longitude: -76.200115